Knock on Wood: The Materials That Create Harmony
It all started in 1880s. It was the time when the first ukuleles appeared on the market. This Hawaiian treat quickly caught on among a lot of people. The descendent of guitar-like Portuguese instruments spread throughout the world and turned over a new leaf in music industry. Ukuleles are among those instruments that create organic, natural sounds. As soon as you pull the strings on this fella, you enter an ethereal journey which takes you to the bright, positive world. In order to achieve this result, an ukulele must be well-made. Otherwise the sound quality will not be that great. Today we will discuss ukulele construction and the woods that are used for its production. Keep on reading and let's decide together what kind of material works the best!
First things first, we have to discuss briefly the distinction between solid and laminate bodies. The former means that ukulele is made out of a whole piece of wood, while the latter indicates on the fact that your instrument is constructed using small pieces of the material. Solid wood ukuleles tend to be more expensive and durable, however, they are more sensitive to the environmental conditions and might crack or break due to dry climates. If you are planning on employing your ukulele outside, I would recommend going for a laminate. Speaking of which, this way of constructing this instrument is better in a way that it can withstand any changes related to the weather and is more affordable. When it comes to sound, solid wood bodies tend to age and develop a richer tone, while laminated ukuleles will sound the same throughout time. You should choose between this two according to your needs and preferences.
Now, let's dig deep into the types of woods themselves and figure out if they make any difference.
Koa
This type of wood is of Hawaiian origin. What makes it so special is its beautiful pattern and diverse colors. Koa ukuleles tend to sound extremely soft and warm, as well as distinct, defined and clear. It has high end articulation with well-balanced mid range tones. The wood that resembles Koa the most is Acacia, which is also very popular in ukulele production.
Mahogany
Mahogany, along with Koa, is most frequently used wood for making high-end ukuleles. It is very solid and dense in nature. It is grown in so many parts of the world and has so many sorts, it is hard to speculate on the tone with clear-cut opinions. However, one thing all mahogany ukuleles have in common is the fact that they make midrange shine. The tones they produce are warm, but deeper compared to that of Koa.
Spruce
Spruce is often used in instrument-making process. It is very popular among acoustic guitars and ukuleles. It is famous for its crisp and steady notes, bright and bold sound. Spruce has a great deal of bass response and can be used for aggressive and dynamic strumming.
Cedar
Compared to Spruce, cedar has way less crisp. The sound it creates is deeper and more balanced. It emphasizes lower notes beautifully and produces unique tones. Cedar body is especially useful for those who pay more attention to their craftsmanship and specialize in fingerstyle.
Redwood
This type of wood holds a middle position between spruce and cedar. It offers pristine sound with a lot of accuracy as well as warmth and softness. Due to the paucity of Redwood, it is very expensive. Therefore, manufacturers often use refurbished furniture.
Ovangkol
Ovangkol is very similar to Rosewood. It creates well-balanced sound and is suitable for all music styles and techniques. Ovangkol lets the midrange shine and makes it more defined and audible.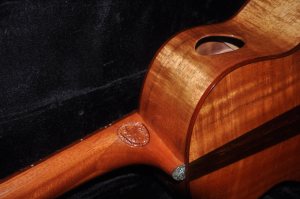 Apart from the woods mentioned above, there are many others such as rosewood, maple, bocote, padauk, cocobolo, nato, beech, cherry, Pacific walnut, bubinga and etc. Manufacturers are not always content with one wood, that is why they often mix and match and utilize many different sorts. Such kind of approach creates ukuleles that are extremely durable, have richer sound and their own signature tones. For instance, the materials for this ukulele are curly redwood, koa, pheasant wood and cocobolo.
What to choose between mat and glossy?
The answer to this question is very simple. If you think about the nature of mat and glossy bodies, you will grasp what is what very easily. What I mean is that gloss is applied on top of the wood, creating a thicker layer than the mat one. This makes the wood damp in the substance and changes its vibration. This will give you a different sound. More expensive glossy ukuleles use higher level of craftsmanship and minimize the sonic interference. I would recommend listening to both and making your choice accordingly.
To conclude everything mentioned above, it is crucially important to know what your instrument is made of. The difference each wood makes is very audible and choosing it according to your taste and musical style will crank your game up a notch. Knowing your ukulele inside out is what will turn you into a real professional. Take your little baby and let it rock your world!